There are two main processes for capturing oil using sorbents: retention on the surface of the sorbent and retention within the sorbent.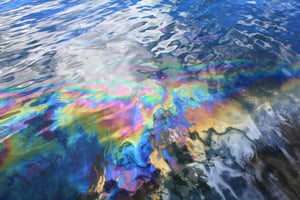 When recovering oil spills in the water, you'll also need to use floating hydrophobic sorbents—those that float on the surface of the water to recover the spill.
The chief concerns are capturing the oil and then either retaining it as the sorbent is repositioned or to recover the material for disposal.
3 Categories of Sorbent Materials
Before we cover the main types of sorbents, let take a quick look at the categories of materials used to capture the oil.
Mineral Based Sorbents: perlite, vermiculite, glass wool, sand, volcanic ash, and clay.
Animal or Vegetable Based Sorbents: peat, cellulose, sawdust, ground corn cobs, hay, and feathers.
Synthetic or Organic Polymers: polypropylene, polyurethane, polystyrene, epoxy, calcium carbonate, and magnesium carbonate.
It's not quite everything under the sun. But, as you can see, the list of sorbent materials is quite long. Of course, that also gives us a great deal of flexibility in how we respond to a spill.
10 Main Types of Sorbents
Here's what we see as the 10 main types:
Bulk Sorbents. These include loose powders and short fibers.
Pads. Thin and flexible, they are sized correctly for the specific spill.
Rolls and Blankets. Long and typically unwoven, they cover a large area. When they are reinforced with rope, they are called sheets.
Pillows. As the name implies they are a convenient size for smaller spills.
Socks. Absorbent material contained in a permeable substance that holds the material together and provides for easy repositioning.
Booms. Used for containment and trapping, longer than pillows and socks
Mops and Pompoms. Made of sorbent strands to trap oil, used just like mops to clean up the oil.
Solid Blocks. Sorbent materials formed into solid blocks to collect oil.
Sweeps. These have a spun bound cover over the sorbent material.
Skimmer Booms and Pillows. These are open net nylon bags containing strands of sorbent.
Those are the main materials and types of sorbents used for oil spills in water. The next challenge is to take those materials and form them into the shape and size needed for specific applications.
How We Can Help
We offer all types of sorbents: from marine oil only sorbents to containment booms and pom-poms for marine applications. We also offer a wide range of industrial absorbents along with our new Spilltration™ line of spill control products.
We have solutions for every type of spill or leak.
Want to Learn More?
We'd be delighted to discuss how we can help you prepare for or recover from oil spills. Use our contact page, or call us at 888-653-7509.