Oil spills in the rain can be particularly challenging. The oil rises to the top of the water and quickly spreads. Plus, old fashioned white sorbents don't work in the rain. The rainwater actually creates a barrier on the white sorbent and the oil runs off—exactly what you're trying to prevent.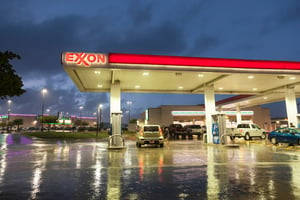 Cleaning up oil spills in the rain is why we worked with HalenHardy to develop Spilltration™ products. They are the only products specifically engineered to filter oil spills from rainwater, which significantly reduces the time and expense of cleanup while protecting our environment.
They absorb oil and allow water to filter through. They are also compact and lightweight so that they can be stored nearby and carried easily in vehicles, ready for any emergency. Their ultra-flexible design allows them to hug the contours of ditches and storm sewer outfalls. Plus, this same flexible and lightweight design allows you to deploy them quickly and easily.
Our Spillver Bullet™ is a 100-foot boom that weighs just 18 lbs. and can be deployed by one person in a mere 30 seconds. It takes up 75% less space that traditional booms. It can quickly be applied in rainy conditions to surround the spill or configured to block the spill from reaching storm drains. And, its speed of application saves you time and money. You can see this in action in our video at Spillver Bullet™.
These rugs can also be used to cover storm drains, protect runoff ditches and stream banks, or catch oil from water at culvert outfalls. They compress up to 80% smaller than traditional spill products, allowing you to fit four times more product in the same space. This seriously ramps up your first response capabilities. The oil can also be squeezed out of the product and it can be reused many times. This video can provide further insight into just how effective Spilltration™ is in the rain Spilltration™ Husky Pads.
Shammy towels are designed for final clean-up detail on oil-based leaks and spills. Like all Spilltration™ products, they are engineered to work in the rain, picking up the oil and letting the water through. Plus, they fit into an area up to 80% smaller than other spill products. This maximizes what you can pack into your spill kits. See them in action at Spilltration™ Shammy Towels.
Rain and Oil Don't Mix–Spilltration™ Has It Covered
We feel that our Spilltration™ line of products can really help with your next spill, particularly in rainy and wet conditions, while also minimizing the space needed and at the same time maximizing your response.
Separating motor oils, hydraulic fluids, transmission fluids, and diesel fuel from rain water and controlling the spill is what Spilltration™ is all about.
Spilltration, when it rains, you shine™
Let's Talk
To learn more about Spilltration™ use our contact page, or call us at 888-653-7509.