As a distributor, you select your supplier partners expecting them to deliver quality products on-time and cost effectively. If only it were as simple as that.
With the growing complexity of environmental, industrial, and janitorial applications as well as regulations, you also need supplier partners who are highly experienced with deep expertise in their products and how to apply them in all situations. And you always need partners, at all levels, who are reliable and honest.
Those are just a few of the starting points. Here's what I feel are the real keys to consider as you're choosing an industrial absorbent supplier partner.
All Things to Everyone—Or Specialty Supplier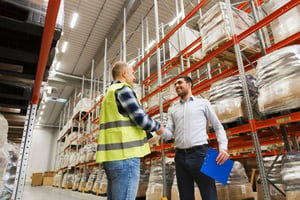 Size matters. There are advantages to partnering with a multi-billion dollar a year organization. That typically includes tapping their broad range of products. But it doesn't include quick decision making, innovative products and programs, the advantages of selective distribution, and certainly not flexibility or focus on this market segment. That's where a specialty supplier like Meltblown Technologies comes to the front of the line.
Quick Decision Making
We're a small organization with a flat organizational structure. There's no wading through layers of management trying to get a decision. In fact, in most situations our employees are directly empowered to make the decision themselves and get things moving quickly.
Innovative Products
Industrial absorbents are often a small part of a large supplier's product line—not so with Meltblown. It's all we do. So we can concentrate our efforts on getting it right while continuing to improve with product performance breakthroughs. It's our only business and we have to get it right to stay in business.
Innovative Programs
That same flat organization structure keeps us all very close to our distributors as well as the end user. That provides us superb insight into developing programs that help end users make the best decision for their application and helps the distributor price the products attractively.
Selective Distribution
Ideally, you're the one distributor with the best product at the best price. If you're working with a specialty supplier, like Meltblown, you're one of a select few distributors that offer our superb products and programs. As a result, end users will seek you out for the best industrial absorbents for their application. That adds up to pricing power and new customers.
Focus and Flexibility
Make a call to Meltblown and you can get things moving quickly. With our deep expertise and flat organization, we know what works and we can make quick decisions. All that adds up to being focused on industrial absorbents and highly flexible in responding with just the right options for you and your customers.
So, how do your supplier partners stack up on this scale?
I encourage you to review your industrial absorbent suppliers and consider how they meet the criteria above. Can they provide innovative products and programs along with selective distribution and rapid response?
Here's what one of our customers had to say in that regard:
"For us, all of absorbent sales combined are very, very small compared to other sectors of our business, so I can't afford a small category to be a pain. One of the things that became evident was that for the incumbent, absorbents was also a small category for them. Although they built a new facility, they weren't doing everything they could to make it seamless.
With Meltblown, that's their only business, and they better do it well, or else they're done. They don't have anything else to fall on. So that helped me to say, 'I've got a specialized supplier and this is all that they do. I've got people that I trust. Let's go for it.' And me, professionally, I can worry about the bigger things in my company because I know that will be taken care of."
Barry Robinson, Safety Products Manager
You Can Count on Meltblown
For industrial absorbents, count on the expert, Meltblown Technologies.
See our distributor sign up. Use our contact page. Or better yet, call us at 888-653-7509 to get a taste of our quick response.