As industry experts and one of the leading providers of spill kits, we get a lot of questions about oil spills. Many of which arrive during an emergency.
Here's our list of the most common questions we receive along with answers and links to more information.
A Spill Has Just Happened… Now What?
Evaluate the type of material spilled. First and foremost you want to make sure that the material is not hazardous to you or your fellow employees. If it is hazardous, make sure that you and any first responders have the proper personal protection equipment (PPE) to enter the affected area. If you are not familiar with the material that has leaked, vacate the area and contact the proper authorities. Take action to secure the area if necessary.
How Do I Control the Spill to Prevent Spreading?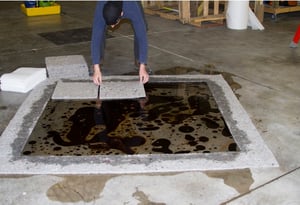 Sorbents can be used to manage day-to-day drips, leaks, and spills. That can include placing socks around the base of equipment or machinery, or using pads or rolls if the leaks get into walkways or aisle ways. Be sure to let your maintenance team know of potential small problems that could lead to bigger problems. If the problem becomes larger or is an actual spill, utilize the socks to contain the spill as close to the equipment as possible. Keep the liquids as close to the source as you can in order to prevent the spill from spreading. Look at your surrounding area for storm drains, ditches, or waterways where the liquid could leave the property and cause larger issues and potential fines. Once these steps are taken, try to safely stop the leak from the source. But only if it can be done safely. Then begin the clean-up and finishing process.
What Should Be Done if the Spill Leaves Our Premises?
If the spill does leave your premises then you need to contact local authorities. In the event of a hazardous material spill, surrounding businesses should be notified in order to either shelter in place or evacuate if necessary. This also applies if materials enter waterways as spills can travel longer distances and greatly affect the size and scope of the cleanup.
How Do I Dispose of the Materials?
Disposal should be determined by the type of liquid recovered. Non-hazardous or hazardous materials should be disposed of utilizing your state guidelines. Sorbents take on the characteristics of what is absorbed. For example, if the pads and socks are full of oil in Louisiana, it would be considered non-hazardous waste. In California, this same type of spill would be considered hazardous waste. Check your state's guidelines. Make sure the necessary steps for disposal are followed as determined by your SPCC plans and company guidelines.
What About Cleanup After the Spill?
Once the cleanup has been completed, make sure any re-useable equipment, such as hand tools, rubber boots, forklifts, etc. that may have been used to clean up the spill are de-contaminated and free of any of the spilled liquid whether its hazardous or non-hazardous.
How Do I Prepare for the Next Time?
We suggest that you pull together a meeting with those involved in the spill and cleanup process to discuss what went well during the process and what steps could be taken to improve. For example, was there enough material on hand? Does your company need to be better prepared for the next event? Also, make sure you restock the material that was used on this spill so that you're ready for the next time this happens.
We also receive a fair number of questions prior to a spill, which is the preferred approach—to be prepared.
How Much Material Should I Have on Hand?
The amount of material on hand should be predetermined by the size and the areas within your facility. Each plant, depending on location, will have a spill prevention, control, and countermeasure (SPCC) plan in place that will determine minimum worst case, most probable case, and worst case scenarios. Most facilities establish enough material for the most probable case scenario. That's because any large scale scenario would typically involve an outside contractor with additional equipment and resources.
Do I Have Enough Materials to Comply with SPCC?
Have your current supplier or distributor arrange for an environmental survey. We offer this service at no-charge and as an added value to our distribution network and its customers. An MBT representative will make the necessary recommendations to help a facility make sure they have enough material on-hand to meet their SPCC plan. Kits should be staged in areas that are easy to reach and where they can be deployed for quick containment and recovery. Note, too, that we have a 100,000 square foot manufacturing facility that is capable of responding quickly if a small spill turns into a larger event.
How Do I Store the Materials?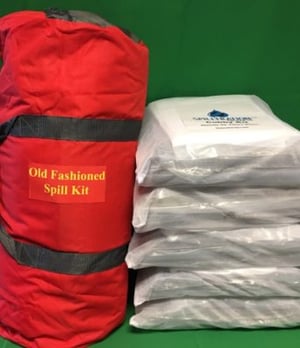 Material should be stored within containers such as poly drums that can hold a suitable amount of quantities to respond to a spill within that area. Determine a location that speeds up initial containment, but is not in the way of day-to-day activities. Make sure the location is clearly marked so employees know where to go in order to get the materials needed. Our spill kits are an ideal starting point.
What Type of Training is Needed?
Training is vital to make response automatic rather than something that is made up on the spot. Deployment of the materials should be a part of an annual safety training measurement. We can hold 30–45 minute brief overviews on "What to Do When a Spill Occurs" and produce a short presentation as well as provide a hands on demonstration with a spill kit. Starting with personal protection equipment (PPE), we'll move to using socks for containment, pillows to absorb the heavier liquids, and using pads as a finishing product. We'll also use disposal bags and place the material into a drum once they are finished.
We provide a ten-step guide in each of our spill kits to help guide you through the proper steps to take when an event occurs—small or large. Those 10 steps begin with risk assessment and end with restocking materials and reviewing how your plans and procedures worked, adjusting them for the next time. You can find the guide in our absorbents and containment products catalog.
Let's Talk
This should give you an idea of both the questions we receive and the answers we provide. So go ahead and give us a call. We're happy to provide assistance and insight into how our products can prepare you to handle "oil spill emergencies."
Use our contact page, or call us at 888-653-7509.