"Be prepared." This is not just the Boy Scout's motto; it is what drives our entire industry. It's all about preparing for those inevitable spill emergencies with the best products for your needs.
Here are three of our Spilltration™ products, which we recommend you keep on hand for spill emergencies.
Spillver Bullet™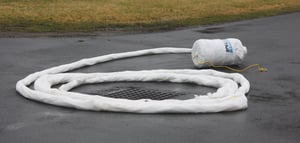 The critical first steps with any spill is to control it, ideally turning it off, and then containing the spill to prevent it from spreading. The Spillver Bullet™ is ideal for this task. It's a 100-foot boom that weighs just 18 lb. and can be deployed by one person in a mere 30 seconds. You can see it in action at Spilltration® Oil Spill Clean-Up.
We're not the only ones that think it's fantastic. It was named Best in Show at the 2016 NSC Congress & Expo in the New Product Showcase.
Spilltration™ Husky Pads
Designed to work in the rain, these ultra-thick pads are engineered for first-line defense outdoors. They hold back oil and fuel spills and prevent oily water from reaching storm drains and waterways.
Plus, you can fit four times more material in the same space as old oil-only products. That gives you a whopping 400% more materials on hand for those spill emergencies.
You can also wring out and reuse all our Spilltration™ products, extending their use on the spot.
Spilltration™ Husky Strips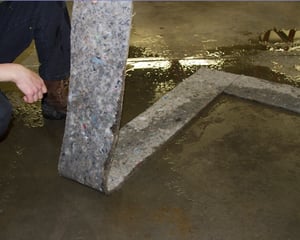 Our husky strips share all the characteristics of our entire line of Spilltration™ products: hold back oil, allow rain through, compress four times more that old oil-only products, and can be wrung out and reused.
At 8" wide x 64" long x 1/2" thick, these strips are the workhorse of the Spilltration™ line. They can be used to quickly surround a spill and they put all their absorbing power on the ground where it's needed most. They work far better than traditional oil-only socks.
There's More
In the heading I promised three products for your emergencies, but there are more Spilltration™ products including our husky rugs, shammy towels, and basins. From this selection I know that you can find just the right combination for your operation.
And don't miss our Spilltration™ spill kits that are already packaged with the needed materials:
Spilltration™ Cubby Spill Kit. Fits into an area 80% smaller than traditional oil spill duffels. It fits into nooks, crannies, and cubby holes, its namesake. Includes: husky strips, pads, and shammy towels.
Spilltration™ Trucker Spill Kit. Stowed behind the truck passenger seat, it's ideal for absorbing fluids leaked from your truck while allowing rainwater to filter through. Includes: basin, husky pads, and shammy towels.
Be Prepared
To learn more about what Spilltration™ can do to help you "be prepared" for spill emergencies use our contact page, or call us at 888-653-7509.